Sustainability: Saving More Than The Planet
A reliable HVAC system is essential to keeping cool and comfortable, particularly in California's sunny Central Valley. But would you believe us if we told you a new one might save you money on your taxes? It can!
Local, state, and federal legislatures are incentivizing American home energy efficiency by offering you tax savings up to $3,200 for upgrading that old energy sucking unit. For that reason, it really is the best time to make the investment and take advantage of limited time tax savings.
Here's a look at the exciting programs and developments that are allowing Climate Care to partner with you in blowing away part of that 2023 tax bill:
(Ok… So, some of the details might not actually be that exciting. But the savings are! So, bear with us.)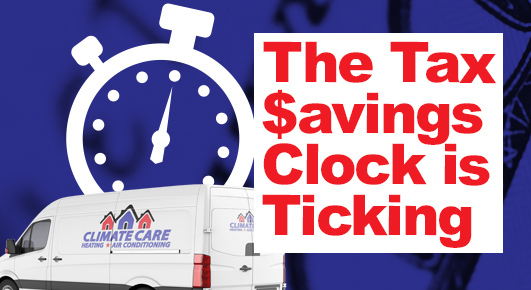 Federal Incentives and the Inflation Reduction Act
You may know the Inflation Reduction Act as Washington's plan to reduce inflation and stimulate economic growth. What you may not know, however, is that the legislative package, signed last year, had a number of secondary objectives – climate action not least among them.
That's where you come in. Because one of many ways the Inflation Reduction Act seeks to fight climate change is by making it cost-effective for hardworking families like yours to buy energy efficient appliances.
How? By offering a $3,200 federal tax credit covering 30% of energy efficient equipment purchases and installations, which include an air conditioner.
Now, before you jump for joy. A new air conditioner alone won't net you the full credit. The cap on boilers, furnaces, ACs and home envelope improvements (windows and insulation) is $1,200. To secure the other $2,000, you'll need to consider a new heat pump, water heater, or biomass stove.
State Programs and Local Utility Rebates
Lucky for you, the federal government isn't the only one offering incentives on new equipment.
Residents in Modesto and Sacramento can also benefit from rebates offered by local utility companies like Pacific Gas and Electric Company and the Sacramento Utility District, and state programs like Energy Upgrade California. These hundred- and even thousand-dollar rebates can take a sizable bite out of the front-end cost of everything from large appliances to smart thermostats.
By taking advantage of these programs, homeowners and businesses can significantly reduce their upfront costs.
Let Us Walk Beside You, As You Take a Step Toward Sustainability
We know that's a lot of information to take in all at once. It's only complicated by the fact that not every system or model is guaranteed to qualify for all of the incentives and programs listed above.
Lucky for you, care is what we do. So, our highly-trained technicians and passionate customer service representatives have taken a fine-toothed comb to every possible offer.
Call now to talk to a licensed professional trained to assess your unique needs, find the unit best suited to your space, and score you the highest possible savings.
Doing anything else is leaving money on the table. And a summer this hot might just burn it away.